So, you are considering a career in data science? Great choice. Data science is not just a high-paying exciting field, but, in fact, it is the top job in the USA too. Glassdoor, the recruitment website, has released its annual ranking of the 50 best jobs in America, and it has rated data scientists as the number one job in the USA. 
A career in data science has been in demand for many years now. Back in 2012, the Harvard Business Review called it "the sexiest job of the 21st century." Those were the nascent days of large enterprises waking up to the possibilities of this new discipline. Since then, data-related job roles and opportunities have continued to mushroom across the globe. A decade later, as trends suggest, data scientist continues to be the 'sexiest job' of the century.
As per statistics, the total amount of data created, captured, copied, and consumed in the world is likely to touch 149 zettabytes by 2024, compared to just the two zettabytes generated in 2010. No surprise that salary, opportunity, and job satisfaction are on a steep rise for data scientists. According to a survey, the job outlook is very bright as between 2020 and 2030, data scientists will take home 15% and higher growth year on year. The survey suggests the growth rate is much faster than the average.  
Data Science Salary: How Much Do Data Scientists Make?
According to the Bureau of Labor Statistics (BLS), the mean annual salary was $103,930 in 2020. Glassdoor pegs the median base salary at $120,000, and Payscale keeps it at $97,038. As the case with average, for some, the pay is low. But the report also suggests that in states such as California, New York, Washington, North Carolina, and New Jersey, the mean annual salaries go above $116,000. In all states, data scientist salaries are much higher than the median yearly salary for all occupations, which was $41,950 in May 2020, according to BLS data.
Many recruitment and consulting companies too conduct independent studies to find various matrices around data science salaries. For example, one such study from Talent.com (one of the largest sources of employment worldwide, 75 countries, 30 million job listings) estimates salaries per region from the USA. 
Salaries per region
| | |
| --- | --- |
| New York | $155,000 |
| California | $150,000 |
| Nevada | $145,000 |
| New Mexico | $142,400 |
| West Virginia | $141,548 |
| Oregon | $140,000 |
| Massachusetts | $140,000 |
| Washington | $138,881 |
| Virginia | $132,749 |
| Pennsylvania | $130,653 |
| Florida | $130,000 |
| Maryland | $130,000 |
| Texas | $125,208 |
| Illinois | $125,000 |
| New Hampshire | $122,500 |
| Tennessee | $122,400 |
| Minnesota | $122,400 |
| Georgia | $122,400 |
| Wisconsin | $120,325 |
| Nebraska | $120,000 |
| Arizona | $120,000 |
| New Jersey | $120,000 |
| North Carolina | $120,000 |
| Kansas | $118,438 |
| Utah | $117,500 |
| Connecticut | $117,171 |
| Colorado | $115,139 |
| South Carolina | $115,000 |
| Idaho | $110,000 |
| Missouri | $107,986 |
| Iowa | $105,900 |
| Michigan | $101,400 |
| Delaware | $100,000 |
| Kentucky | $100,000 |
| Indiana | $100,000 |
| Ohio | $99,000 |
| Alabama | $95,600 |
| Oklahoma | $80,502 |
| Montana | $47,629 |
By analyzing data from Glassdoor, NYC Data Science Academy showed the distribution of jobs across top states. As prevalent, central tech hub states still hold quite a lot of opportunities in this industry.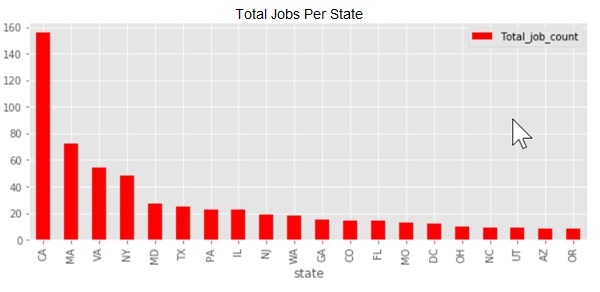 Glassdoor, the leading job search and review company too, developed a report by collecting data from 6,600 data scientists. Though Glassdoor did not provide state data, Galvanize, a skill development company, dug location data from Glassdoor's reports to compare different states.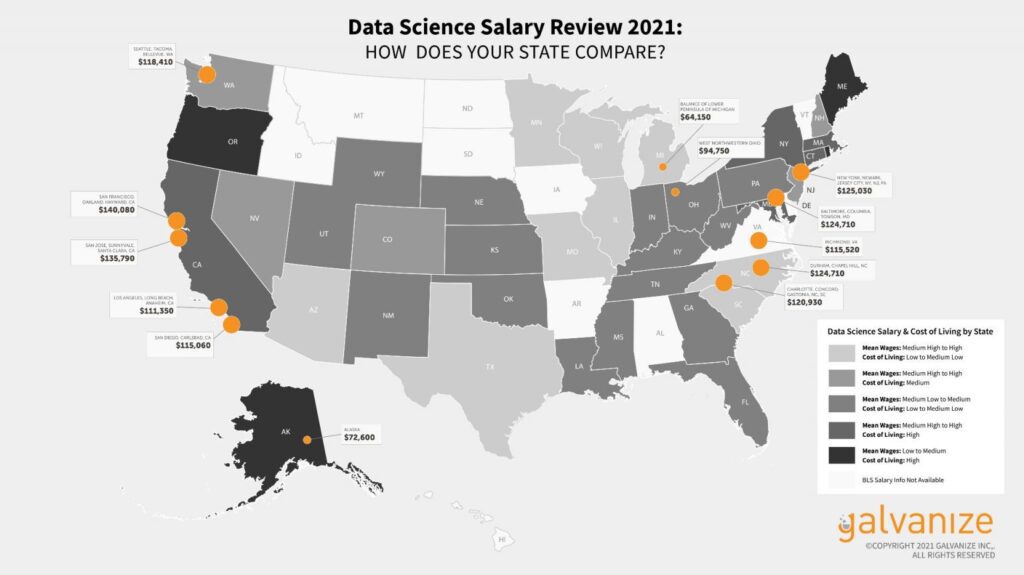 Data Science Salary: Based on Experience
Experience – Estimated Total Pay
0-1 years – $102,131
1-3 years – $120,823
4-6 years – $127,405
7-9 years – $129,806
The estimated total pay represents the median, which is the midpoint of the ranges from Glassdoor's proprietary Total Pay Estimate model and based on salaries collected from its users.
Payscale also estimates between junior and senior data scientist roles based on data from its platform.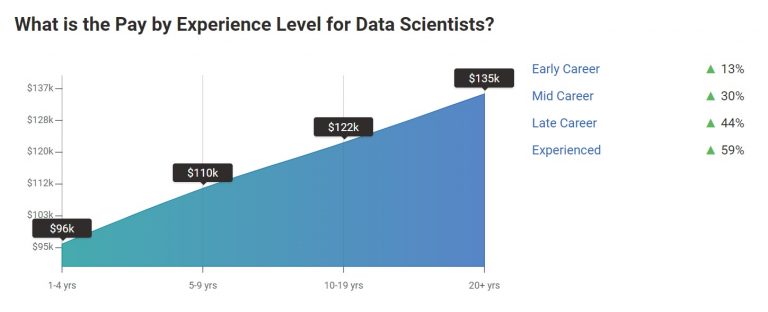 In explanation, it states an early career Data Scientist with 1-4 years of experience earns an average total compensation (includes tips, bonus, and overtime pay) of $95,855 based on 6,726 salaries.
A mid-career Data Scientist with 5-9 years of experience earns an average total compensation of $110,406 based on 2,086 salaries. An experienced Data Scientist with 10-19 years of experience makes an average total compensation of $122,363 based on 548 salaries. In their late career (20 years and higher), employees earn an average real wage of $135,156.
Various non-profit, government, private – agencies report different average salaries. These numbers vary but help you understand the economy at its best, prevailing trends and assist you to remain competitive. For example, here is an average pay range table from ZipRecruiter, a leading online employment marketplace and an NYSE-listed company. It tells you about the job percentiles and provides you with salary brackets.

Data Science Salary by Industry
A decade ago, industries were waking up to the possibilities of this new discipline. The implementation of processing and interpreting data helped enterprises make informed decisions around growth, optimization, and performance. High adoption of programming languages like Python, innovation, ease of data collection, technology proliferation, and enormous data production encouraged industries to leverage their potential. As a result, data-driven decision-making dramatically affects organizations' growth and success. As a result, the demand for data scientists is skyrocketing.
BFSI (Banking, Finance and Services, and Insurance sector) was the first industry to try data science before anyone else. No wonder, data science is a force in every industry. Today, data scientists store, collect, analyze and monitor colossal data sets in every sector.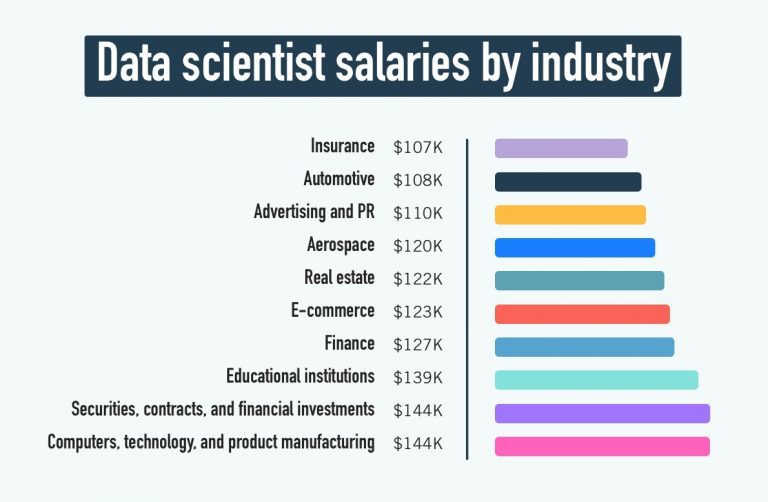 The following charts show the number of jobs offered by sectors and top sectors per state. These tables give you an inside look at how your interest matches up with your preferred industry and location so that you can better understand  how to center your job search.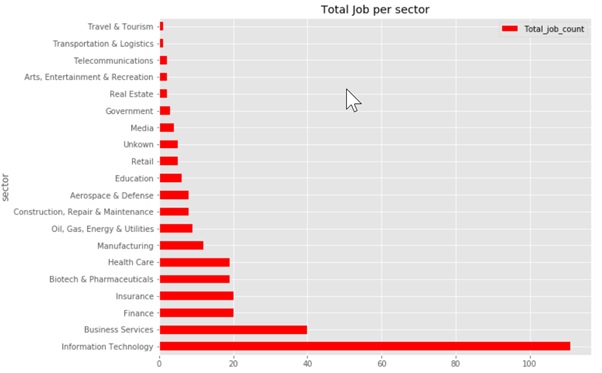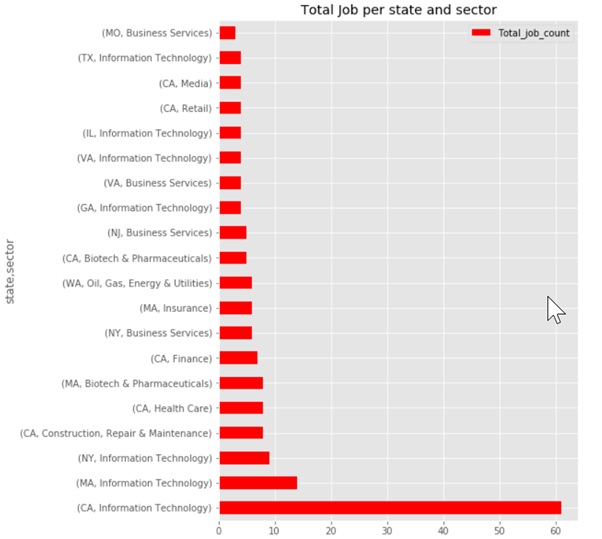 Top 10 Skills Mentioned in Job Descriptions and Resumes
What kind of skills do  recruiters mention in job descriptions? Out of a broad range of skillsets, we have picked the top 10 most important ones, as ZipRecruiter Career Keyword Mapper stated.
The team has prepared this list by pairing industry research with machine learning tools. It has analyzed millions of job postings and resumes to identify the most important keywords related to Data Scientist jobs. The top three keywords make up 44.11% of the entire set of top terms. Data Analytics, SQL, and Computer Science represent an additionally healthy share of the employer Data Scientist job postings with their combined total of 32.27%. According to employers, at 23.63%, Database, Quantification (Science), Data Mining, and Spark appear far less frequently but are still a significant portion of the 10 top Data Scientist skills and requirements.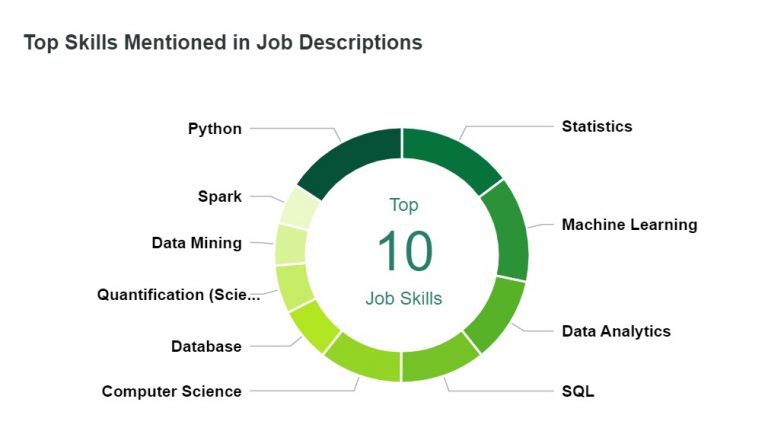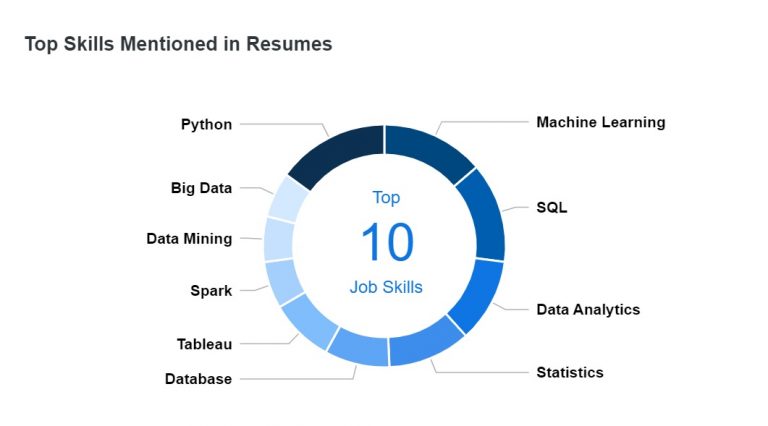 Best 74 Big Data Companies and CEOs to Work for
By keeping Computer Reseller News (an American technology magazine) annual rating as a baseline and Glassdoor scores of the (%) of employees who would recommend a company to a friend and (%) of employees who approve of the CEO, Forbes has shared a list of the best big data employers.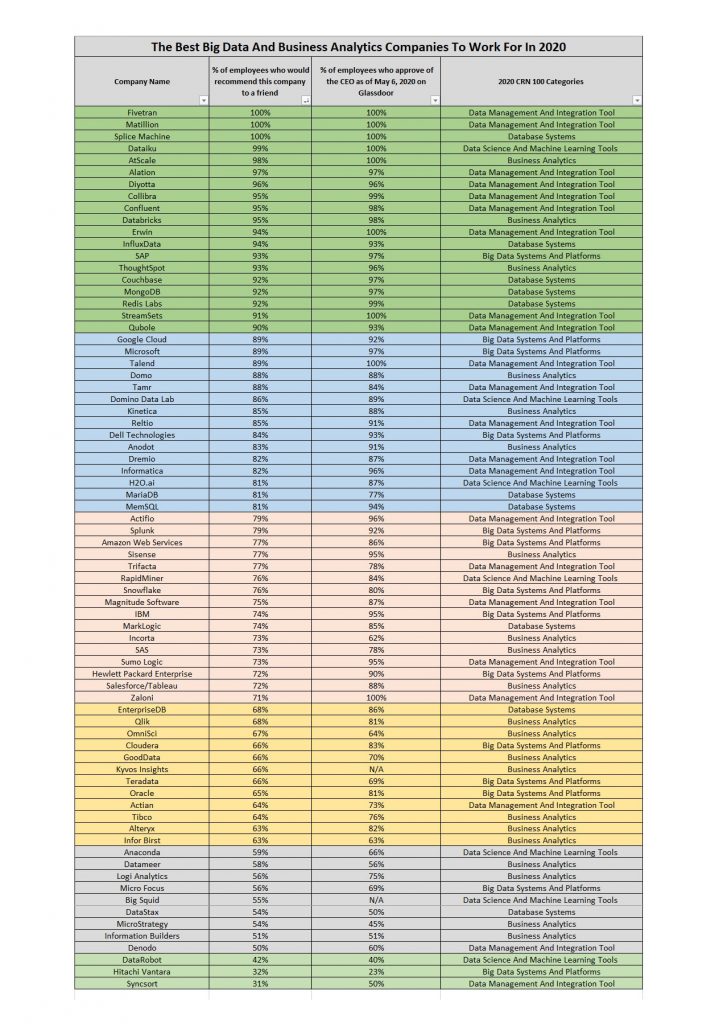 Data Scientist will Continue to be the Sexiest, Most Desirable Job
A leading business intelligence and analytics solutions company, MicroStrategy, in its study has found that in 2020, only 57% of  enterprise organizations are using data and analytics to drive strategy and change. This means, there are far and more opportunities are waiting in store.
The study also found that 95% of employers found hiring candidates with data science and analytical skills extremely hard. So if the skills are scarce, there is a lot of demand.
In addition, as per U.S. Bureau of Labor Statistics (2021) data, the data science and computer information research field is expected to grow by 22% from 2020 to 2030, which is triple the rate of the average profession (8%). The BLS notes that rapid increases in data collection by companies, and the demand for new and better technology systems, will drive growth in the field.
Dice, a leading career marketplace for technologists, predicted in its 2020 Tech Job Report that data engineer as the fastest growing technology job, will grow 50% year over year.