A study from Findem, a people intelligence company, reveals that increasing diversity in recruiting is a top-three challenge for recruiters this year, although eliminating bias ranks lowest among the areas of improvement for talent leaders. The study also found that recruitment teams are challenged by reaching out to significantly more passive candidates, building a solid talent pipeline and juggling a large stack of tools. To help surmount these challenges, 95% want to automate more of the sourcing process.
Even as diversity, equity and inclusion (DE&I) has been on center stage the past year, Findem's study found that HR's biggest recruiting challenge is building a solid pipeline, called out by 57% of respondents. Improving talent quality ranked second, bolstering candidate diversity ranked third, better access to pipeline data was fourth, and hiring sourcers and recruiters was fifth. Hiring for a largely remote workforce – a task thought to be a major pain-point due to the pandemic fallout – was third to last on the list, noted by just 16%.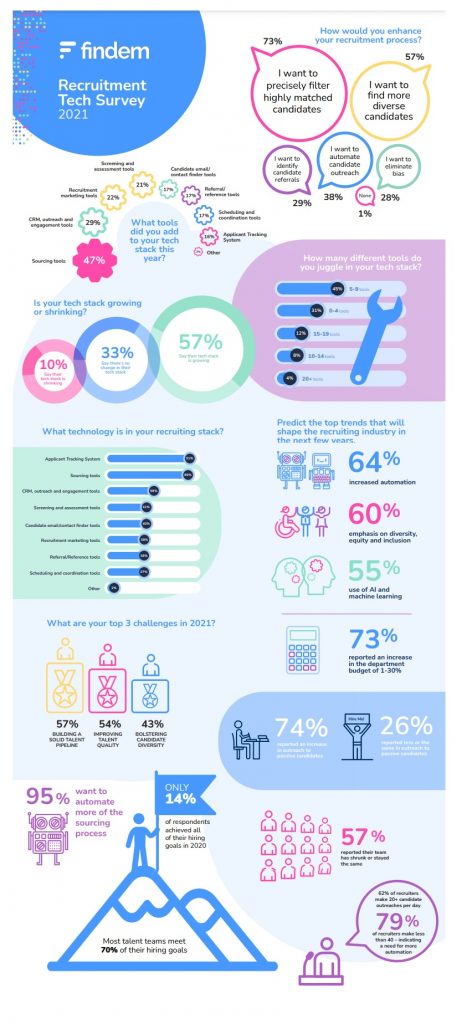 Recruitment Trendspotting
Automation is also the biggest trend that recruitment insiders believe will shape the industry in the next few years, cited by 64% of respondents. And, although they don't consider DE&I their number one challenge right now, it ranked second (60%) among trends to watch, followed by artificial intelligence and machine learning (55%), remote working (44%), big data (22%) and people analytics (21%). Blind hiring ranked toward the bottom, with just 8% deeming it an emerging trend.
Tech Stacks Growing, Driven by Sourcing
Recruitment tech stacks are growing, with over half (57%) reporting that they've adopted new tools in the past year, while one-third held steady and 10% saw a reduction. Of those who did increase the size of their stack, 47% added sourcing tools, 29% added CRM/outreach/engagement tools, 22% added recruitment marketing tools and 21% added tools for screening and assessment.
One-Fifth of Recruiters Contacting 40+ Candidates a Day
Automation could seemingly offset some of the load bearing down on hiring teams whose resources are stretched thin, yet are required to reach out to multiple candidates a day to meet their goals of recruiting high-quality and diverse candidates. The study found the majority of sourcers and recruiters are making a minimum of 10 outreaches per day, and some upward of 60. The highest percentage – 27% – are making 20-29 per team member, 22% are making 10-19, 15% are making 30-39, and 7% are making 50-59.
Recruiting Teams Short Staffed, Missing Goals
Ironically, those tasked with recruiting talent are finding themselves with internal staffing problems, with one-quarter of HR leaders reporting that they're challenged to fill their open sourcing and recruiting positions. Given that recruiters can spend upward of 10 hours sourcing candidates for one role, and strategies are shifting more toward passive candidate sourcing, which is even more time intensive, recruitment teams are under intense pressure. As a result, only 14% said that they reached 100% of their hiring goals last year – most (27%) only reached 80% of their goals.
Hybrid to be Mainstream in 2022, One-third Full Remote
Recruitment teams have been hiring for a largely remote workforce over the past year – something only 16% consider a top challenge. However, most expect a shift to a more hybrid workforce in the coming year. The study shows that 34% of HR leaders are recruiting for companies with workforces that are fully remote. However, just 6% anticipate that their workforce will be 100% remote in 2022.
Access the full report at https://www.findem.ai/